Shop Heritage Trail, 3rd June 2016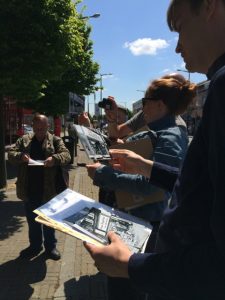 We had a glorious day for taking photographs along on shop heritage trail on Cheetham Hill Road on Friday 3rd June. Part of the Manchester Histories Festival, the activity was designed to match up today's shops with the photographs from the archive – part mystery tour, part heritage quiz and part 'X Marks the Spot'! Our small-but-perfectly-formed-party had fun with clues photographing the old shops against the new shops. Manchester Histories Festival volunteers Jen and Ed got stuck in and helped – they got some great shots too.
Jen, Manchester Histories volunteer, chats to Delphine, as she notices the activity – "I remember Woolworths yes!!"
Challenges included finding the right angle and lining up the features of the photographs with the existing surroundings and architecture of the shops now – hope you like the results below!
Paul Kelly, from the Irwell Valley Mining Project, joined us as our star historian and font of knowledge on the local area. Paul said 'the trail's very engaging as its been well-researched and fun for the whole family to do together. You can imagine grand-children and grand-parents doing the trail together'.
If you would like to do the quiz, check out our Shop Heritage Trail Event page for clues, photographs and instructions. Have fun and don't forget to mind the road! Send us your results and we'll include them on the site.